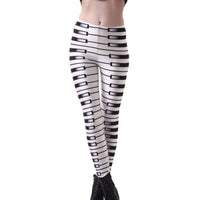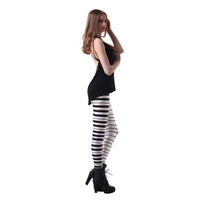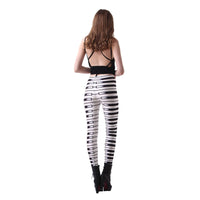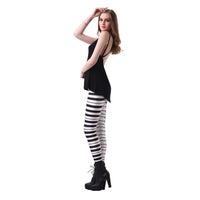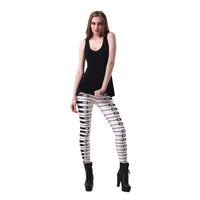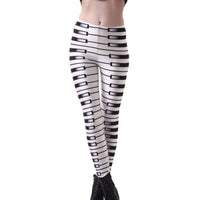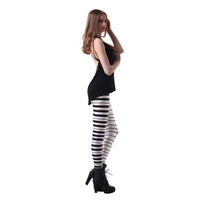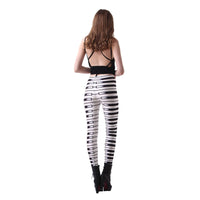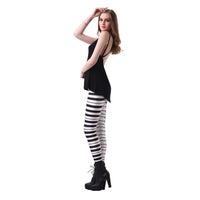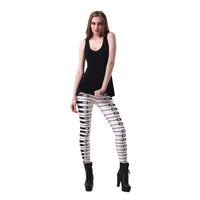 The Keys to Happiness Leggings
The piano's ivory keys swaddle your legs as if you are a nymph who has dipped her legs in a pearly river of milk. No one will be able to resist lapping up your look as your body shines in these polyester leggings' delectably creamy tones!
Long, black piano keys add contouring to your thighs and hips and wrap around your backside to draw the eye around your body as if down a flowing brook. Choose from seven size options for yourself or to gift to the siren in your life.
Important: Please pick your size based on the table below. All measurements were made in the leggings' stretched state (i.e., while worn). Note that these leggings' sizes are smaller than standard US sizes, and that they differ from those of other items in our collection! Please be aware of our Returns & Refunds Policy.
Measurements (inches)
 Size
Waist
Hip
Thigh
Ankle
Length
 S
24.0–34.2
28.7–42.1
15.4–24.0
7.9
35.0
 M
25.2–35.4
29.9–43.4
16.5–25.2
9.1
36.2
 L
26.4–36.6
31.1–44.5
17.7–26.4
10.2
37.4
 XL
27.6–37.8
32.3–45.6
18.9–27.6
11.3
38.6
 XXL
28.8–39.0
33.5–46.8
20.1–28.7
12.4
39.8
 XXXL
30.0–40.2
34.7–48.0
21.3–29.9
13.5
41.0
 4XL
31.2–41.4
35.9–49.2
22.4–31.1
14.6
42.2
Measurements (cm)
 Size
Waist
Hip
Thigh
Ankle
Length
 S
61–87
73–107
39–61
20
89
 M
64–90
76–110
42–64
23
92
 L
67–93
79–113
45–67
26
95
 XL
70–96
82–116
48–70
29
98
 XXL
73–99
85–119
51–73
32
101
 XXXL
76–102
88–122
54–76
35
104
 4XL
79–105
91–125
57–79
38
107