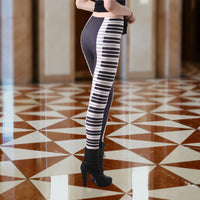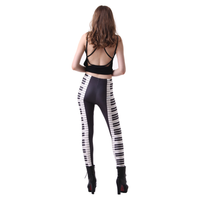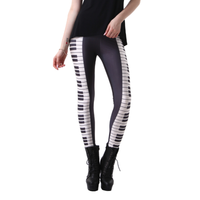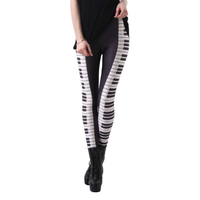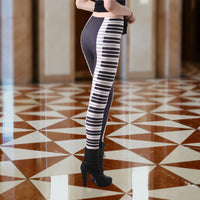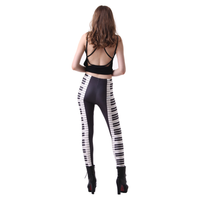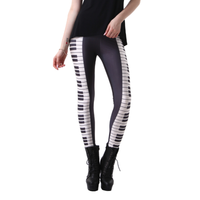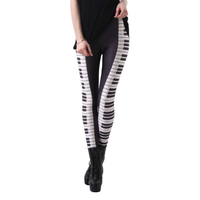 A grand piano's glossy black surface and velveteen keys wrap around your body like a second skin. As the fabric sits flush with your legs, your piano-loving partner won't be able to resist playing their favorite compositions or practicing their scales along your sides!
Pianos command whatever room they are in, and you are sure to elicit a similarly irresistible aura when you're clad in these leggings. They are made from a blend of polyester and spandex, which makes them both strong and flexible.
Important: Please pick your size based on the table below. All measurements were made in the leggings' stretched state (i.e., while worn). Note that these leggings' sizes are smaller than standard US sizes, and that they differ from those of other items in our collection! Please be aware of our Returns & Refunds Policy.
Measurements (inches)
 Size
Waist
Hip
Thigh
Ankle
Length
 S
24.0–34.2
28.7–42.1
15.4–24.0
7.9
35.0
 M
25.2–35.4
29.9–43.4
16.5–25.2
9.1
36.2
 L
26.4–36.6
31.1–44.5
17.7–26.4
10.2
37.4
 XL
27.6–37.8
32.3–45.6
18.9–27.6
11.3
38.6
 XXL
28.8–39.0
33.5–46.8
20.1–28.7
12.4
39.8
 XXXL
30.0–40.2
34.7–48.0
21.3–29.9
13.5
41.0
 4XL
31.2–41.4
35.9–49.2
22.4–31.1
14.6
42.2
Measurements (cm)
 Size
Waist
Hip
Thigh
Ankle
Length
 S
61–87
73–107
39–61
20
89
 M
64–90
76–110
42–64
23
92
 L
67–93
79–113
45–67
26
95
 XL
70–96
82–116
48–70
29
98
 XXL
73–99
85–119
51–73
32
101
 XXXL
76–102
88–122
54–76
35
104
 4XL
79–105
91–125
57–79
38
107