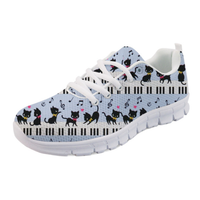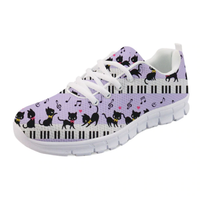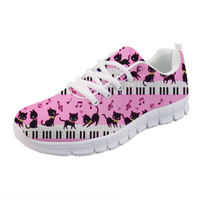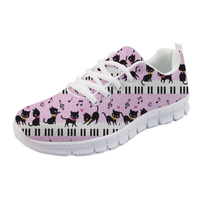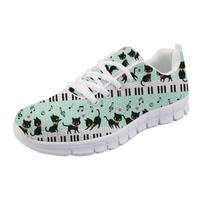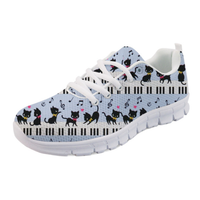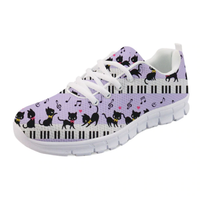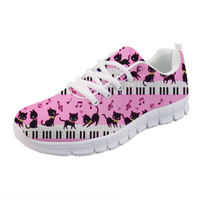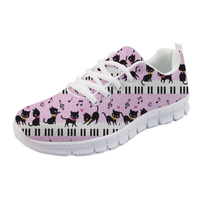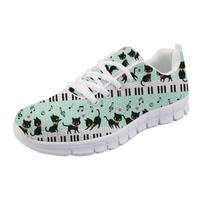 Dance through the night with these cute and jazzy sneakers. You won't be able to resist tapping your toes along to the pace of the spirited kittens bounding and bending in glee all along this sneakers' body. A playful shoe choice for piano fans and cat lovers alike.
Customize these sneakers to fit your personal style with a variety of color options and either white or black wear-resistant rubber soles. Available in US sizes 5–11 (EU: 35–44), they are made from a breathable woven mesh outer and are lined in a moisture absorbing insole.
Important: Please pick your size by measuring the length of your foot heel to toe and consulting the table below; if your foot is particularly wide or high, further increase the obtained size by one step. Note that this shoe's size denomination may differ from what you usually wear, and from other shoes in our collection! Please be aware of our Returns & Refunds Policy.
Foot Length
Shoe Size
inches
cm
US
EU
9.2
23.3
5
35
9.5
24
6
36
9.7
24.6
7
37
10.0
25.3
7.5
38
10.2
26
8
39
10.5
26.6
8.5
40
10.8
27.3
9
41
11
28
10
42
11.3
28.7
10.5
43
11.5
29.3
11
44