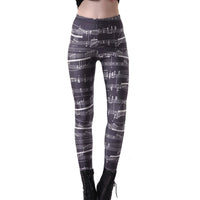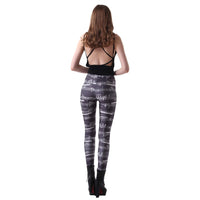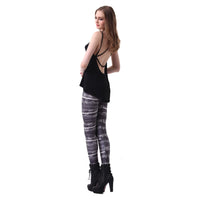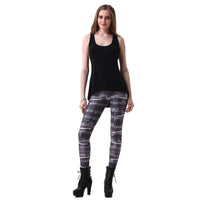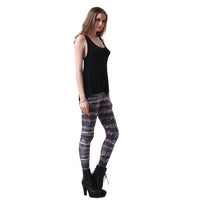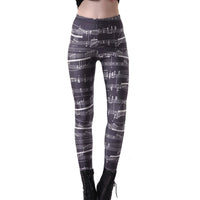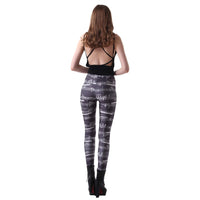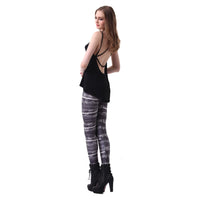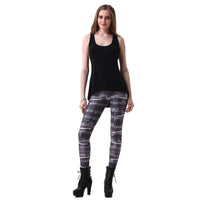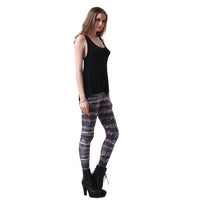 Musical scores do not contain many words, but their regal bars peppered with flourishes of lilting musical notes are full of poetry. Draw attention to musical notation's timeless elegance in these artfully printed leggings that will comfortably carry you through your busy days.
These polyester leggings are great to wear to the gym, or at your yoga or pilates studio as you work out to keep your body and mind in fine piano playing shape. They can also be worn alone as breathable pants, and will look wonderful peeking out from under a long black dress or skirt at your recitals and concerts.
Important: Please pick your size based on the table below. All measurements were made in the leggings' stretched state (i.e., while worn). Note that these leggings' sizes are smaller than standard US sizes, and that they differ from those of other items in our collection! Please be aware of our Returns & Refunds Policy.
Measurements (inches)
 Size
Waist
Hip
Thigh
Ankle
Length
 S
24.0–34.2
28.7–42.1
15.4–24.0
7.9
35.0
 M
25.2–35.4
29.9–43.4
16.5–25.2
9.1
36.2
 L
26.4–36.6
31.1–44.5
17.7–26.4
10.2
37.4
 XL
27.6–37.8
32.3–45.6
18.9–27.6
11.3
38.6
 XXL
28.8–39.0
33.5–46.8
20.1–28.7
12.4
39.8
 XXXL
30.0–40.2
34.7–48.0
21.3–29.9
13.5
41.0
 4XL
31.2–41.4
35.9–49.2
22.4–31.1
14.6
42.2
Measurements (cm)
 Size
Waist
Hip
Thigh
Ankle
Length
 S
61–87
73–107
39–61
20
89
 M
64–90
76–110
42–64
23
92
 L
67–93
79–113
45–67
26
95
 XL
70–96
82–116
48–70
29
98
 XXL
73–99
85–119
51–73
32
101
 XXXL
76–102
88–122
54–76
35
104
 4XL
79–105
91–125
57–79
38
107