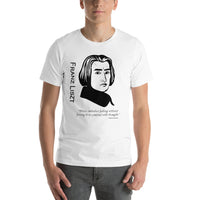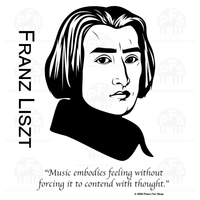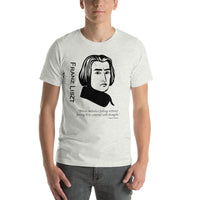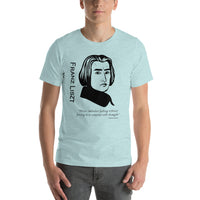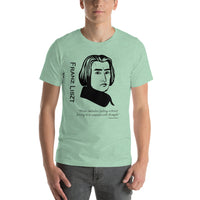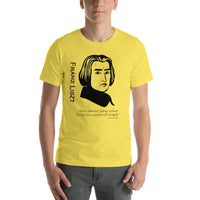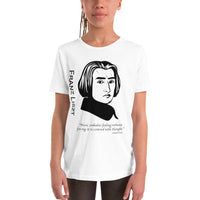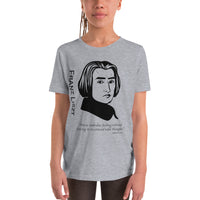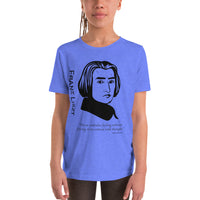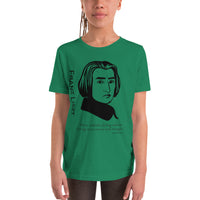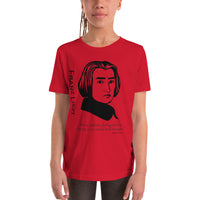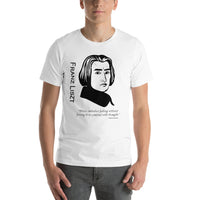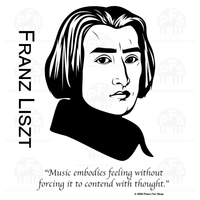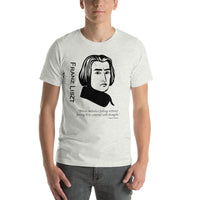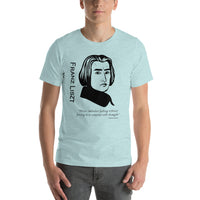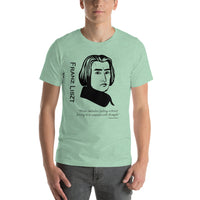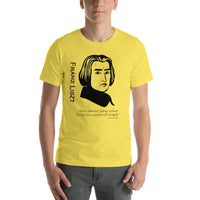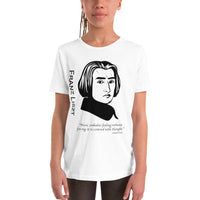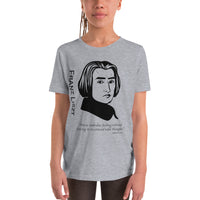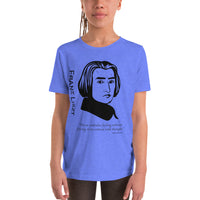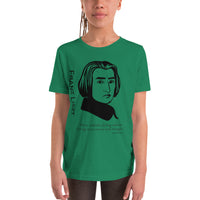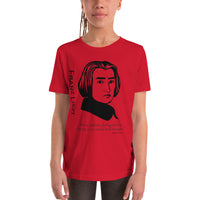 BUNDLE DISCOUNT: Buy 3 SHIRTS OR MORE (any design) and get $10 OFF at checkout!
Franz Liszt (1811–1886), the Hungarian composer, piano wizard, and pan-European superstar of the Romantic era, forever raised the bar for pianistic generations to come, by pushing both his breathtaking mastery of the keyboard and his command of the compositional techniques of his time far beyond what his shellshocked audiences on his European tours had ever witnessed before. Commemorate one of the greatest minds of the 19th century, by proudly sporting this musical celebrity's silhouette on your chest, along with his inspirational quote that encourages us to try and experience music free from associations to the real world: "Music embodies feeling without forcing it to contend with thought."
Hand-drawn by our skilled silhouette artist Tarmizi Ziartz based on Henri Lehmann's portrait of the young Liszt from 1840.
Pre-shrunk, and made from 100% combed and ring-spun cotton (non-white fabric contains some polyester), this T-shirt feels soft and lightweight, with just the right amount of stretch. Its cut is designed to be comfortable and flattering for both men and women.
Important: Before adding this shirt to your cart, please use the menus above to pick your desired size and color (see the table below for detailed size information). Kids sizes and adult size XS have limited color options. Be aware of our Returns & Refunds Policy.
Length
Width
US Size
in
cm
in
cm
Kids – S
21
53
15
39

Kids –

M
22
56
16
41

Kids –

L
23.5
59
17
44

Kids –

XL
24.5
62
18
46
Adults – XS
27
69
16.5
42

Adults –

S
28
71
18
46

Adults –

M
29
74
20
51

Adults –

L
30
76
22
56

Adults –

XL
31
79
24
61

Adults – X

XL
32
81
26
66