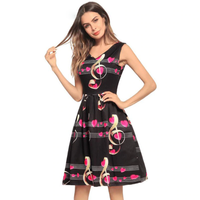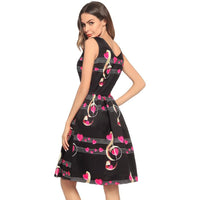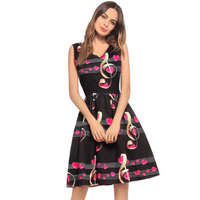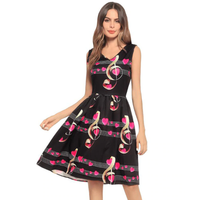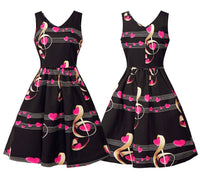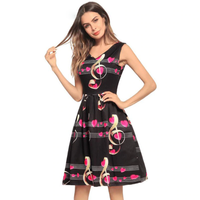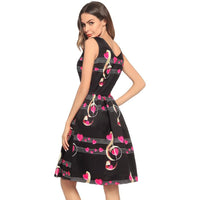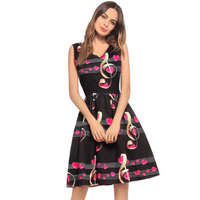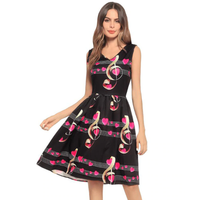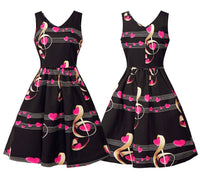 Heart & Treble Clef Dress
From Franz Liszt's "Liebestraum" to more contemporary love songs like Elton John's "Your Song," the piano's timbre easily elicits themes of tenderness and desire. Feel the love in this romantic dress where pink hearts replace musical notes on the bars.
This dress' tapered top, cinched waist, and wide skirt made of slimming black polyester fabric will look lovely on both young and old. Its clean and tailored lines make it suitable for dressier events or special dinner dates, but you can also easily wear it as an everyday summer dress.
Important: Please pick your size based on the table below. All measurements were made in the leggings' stretched state (i.e., while worn). Note that this dress' sizes may differ from standard US sizes, and that they differ from those of other items in our collection! Please be aware of our Returns & Refunds Policy.
Chest
Waist
Length
Size
in
cm
in
cm
in
cm
S
35.0
89
28.7
73
40.2
102
M
37.0
94
30.7
78
40.6
103
L
39.0
99
32.7
83
40.9
104
XL
40.9
104
34.7
88
41.3
105
XXL
42.9
109
36.6
93
41.7
106