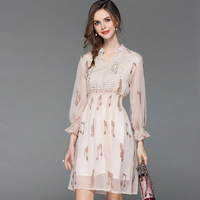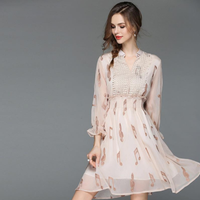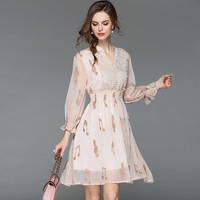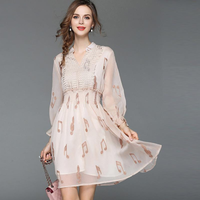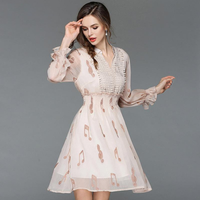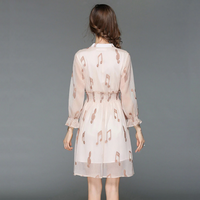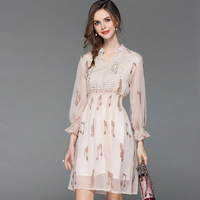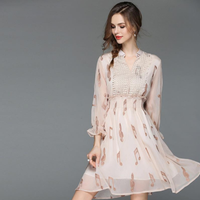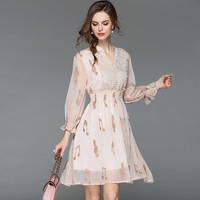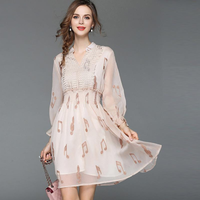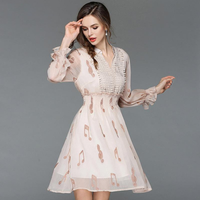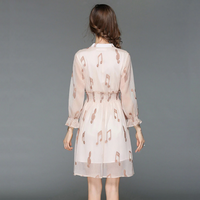 Chiffon's delicate and airy weave makes any wearer feel instantly flirty and feminine. This dress' ribbed middle will comfortably cling to your waist to emphasize your body's most flattering lines, while the cropped and tailored sleeves add a touch of sophistication.
This dress will make a wonderful transition piece from day to night. Wear it with sandals and tote bags during the daytime, and with high heels and a glamorous purse for an evening out. It is made from a polyester and chiffon blend for extra strength and breathability.
Important: Please pick your size based on the table below. All measurements were made in the leggings' stretched state (i.e., while worn). Note that this dress' sizes may differ from standard US sizes, and that they differ from those of other items in our collection! Please be aware of our Returns & Refunds Policy.
Measurements (inches)
 Size
Chest
Shoulder
Waist
Length
Sleeve
 M
34.6
15.0
25.2–34.7
36.2
20.1
 L
36.2
15.4
26.8–36.2
36.6
20.5
 XL
37.8
15.8
28.4–37.8
37.0
20.9
 XXL
39.4
16.1
29.9–39.4
37.4
21.3
Measurements (cm)
 Size
Chest
Shoulder
Waist
Length
Sleeve
 M
88
38
64–88
92
51
 L
92
39
68–92
93
52
 XL
96
40
72–96
94
53
 XXL
100
41
76–100
95
54